News & Reviews Category
---
---
---
---
Monty Python's Spamalot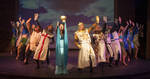 When Eric Idle "lovingly ripped off" material from his own film, the irreverent "Monty Python and the Holy Grail" (with a nod to his "Life of Brian," and other Python-esque comedy routines), he was rewarded with the 2005 Tony Award for Best Musical. The show, with a catchy score by collaborator John Du Prez, is decidedly filled with British humor. Yet, in a musical style related to shows like "Avenue Q" and "The Producers," this mock retelling of the Arthurian legend offers an unabashedly fresh, cheeky comedy that should be popular with diehard Monty Python fans and younger audiences.
For this show to work, however, tempos and pacing must be rapid enough to keep the humor unpredictable but not so fast that audiences miss Idle's hilarious lyrics and dialogue. This is a tricky balancing act because of the many exaggerated dialects used by the characters. But again, if viewers can't understand what's being said the laughs fall flat. That said, Dante J. Orfei's production, while offering much of what makes this show so uproariously funny, also features some problems.
First, there are the often-problematic mics that scratch against costumes, provide electronic feedback or just plain cease to work. Luckily, King Arthur knew how to compensate for this problem in his performance. Often, when a continuous flow of action from one scene to another would have been more effective, there are long moments while the audience waits for something to happen. John Warren's 14-member backstage orchestra is almost always excellent, but a few tempos felt unaccountably sluggish. And some of Orfei's actors, while eager and talented, have been allowed to either become so over-the-top or encouraged to speak in such thick accents that audiences hearing this dialogue for the first time will have no idea what's being said. Examples include the uncredited ensemble member playing Mrs. Galahad and Jameson Wentworth's otherwise very funny, nicely-sung Sir Galahad. Before becoming the well-spoken knight, his peasant Dennis is almost unintelligible.
But the Grail is half full with much goodness to offer. First, there's Eric Idle's priceless book and lyrics that, even upon repeated viewings, offers laughs aplenty. Next there's Michael Nedza's sparse, but effective set design complemented by Michael A. Kott's nicely executed multimedia production. Lindsay Prerost's Medieval modern costumes pay homage to the original production without merely copying it. Christopher Pazdernik's energetic choreography demands much of his young cast without overtaxing them (my only criticism being a far too-busily staged, "Song That Goes Like This").
Orfei's young cast is lead by the incomparable Jamie Szynal as the Lady of the Lake. This young actress has a wide vocal range and the power to belt to the last row, while paying tongue-in-check tribute to such other pop performing icons as Cher and and Britney Spears. Her terrific comic timing and strong charisma make Ms. Szynal a young star-to-watch. Including the aforementioned Jameson Wentworth as the dashing Sir Galahad, there's Patrick Perry's solid triple-threat King Arthur, Daniel Ermel's easily frightened, Broadway-bound Sir Robin and the delightfully sassy Brett Baleskie as the flamboyant Sir Lancelot.
While the road to Camelot is sometimes a bumpy journey, Jedlicka's production of one of Broadway's funniest musical comedies, a show that's perfect for today's troubled times, is highly entertaining, filled with exciting young performances and and offers a Grail of surprises and fun.
Recommended
Reviewed by Colin Douglas
Presented April 19-May 4 at the Jedlicka Performing Arts Center at Morton College, 3801 S. Central Ave., Cicero, IL
For tickets call 708-656-1800 or go to www.jpactheatre.com
For additional information about this and other shows go to www.theatreinchicago.com
---
---
---
---
---
---